How To Control Your Home Temperature With The Ecobee Smart Sensor?
How-Does-Ecobee-Smart-Sensor-Work-To-Regulate-Temperature
In my experience, Ecobee has been the most reliable smart thermostat, with Google Nest coming in as a close second. The two most popular smart thermostats on the market today both use remote sensors. After seeing the value of these extra sensors, Google copied Ecobee. To what extent, therefore, does the Ecobee sensor excel above comparable products? In a nutshell, it's the way it aids in keeping your home at a comfortable temperature.
How Does the Ecobee Smart Sensor Work to Control Temperature? Room temperature and occupancy may be monitored with the help of Ecobee Smart Sensors. The Ecobee Thermostat takes this information into account in conjunction with your comfort settings and the presence of the Follow Me and Smart Home & Away features to appropriately heat or cool your home.
Sometimes we'll utilize the sensors' average temperature, but I've found that being able to set the Ecobee to check multiple sensors at different times of day is its most valuable function. For instance, while we are sleeping at night, turn on just the sensors in the bedroom. That's only the beginning of the story. When deciding how to use Smart Sensors, you have many possibilities. Here, we'll examine the Ecobee Smart Sensors in further detail to see how they function and what customization possibilities you have.
https://www.youtube.com/watch?app=desktop&v=oDY-2xZbfIE
Using Wi-Fi and Wi-Fi-enabled Sensors
Eco bee's sensors may be tuned to one of three main "modes," or major settings. Let's check out each one individually.
Smart Sensors should be installed in the rooms that get the greatest usage. Temperature sensors may contribute to an average temperature that takes into account your preferences and the time of day. When you first connect a Smart Sensor to your Ecobee thermostat, you'll be prompted to choose the Comfort Settings, you'd want it to contribute to. This may, of course, be modified in the future if necessary.
There are three pre-programmed comfort levels available on the Ecobee thermostat, but more may be added. You may adjust the temperature, lighting, and music to suit your needs and tastes. Go to Eco bee's website right here for additional information on temperature control options
Without the "Follow Me" option turned on (which we'll cover in the next section), the active comfort mode will simply take an average of the sensors' readings. With Ecobee, you get to decide which sensors contribute data to which Comfort Settings, so you can determine the average temperature in your home. You may deactivate the sensor on the real Ecobee thermostat if you just want to use a remote sensor, and yes, you need at least one sensor for each comfort level.
We will give you an example here. When it's time to sleep, turn off all the sensors and save those in my bedroom. As I do most of my work throughout the week from home, the "Work" comfort setting includes my office and kitchen. Do not include the bedroom sensors since we seldom use them during the day. After supper, disable the kitchen sensor and reintegrate the living room and bedrooms.
It's also a good idea to install Smart Sensors in rooms that are consistently warmer or colder than the rest of the home. One such case of this is when a single thermostat regulates the temperature on both the upper and lower floors of a building. Because heat rises, keeping the thermostat on the lower level will result in a warmer upper level. Smart Sensors can maintain a healthy equilibrium and prevent the upper floor from becoming too warm. What this means is that by installing Smart Sensors throughout the house, you can help eliminate uncomfortable temperature differences and create a more consistent environment.
Things to check before using Smart Sensors
You may switch to the "Home" comfort mode by holding the manual button, which will utilize the Smart Sensors you've set up for that mode instead of the ones you're currently using. You may override the convenience setting with a manual hold and choose whatever temperature you choose. Holds that you manually place won't be released automatically when the time comes for your next preferred temperature setting.
It's also worth noting that Smart Sensors continue to send back temperature and occupancy data to the Ecobee thermostat even when they're not actively being used for the comfort setting. The thermostat is responsible for selecting which temperature readings to use depending on the parameters you define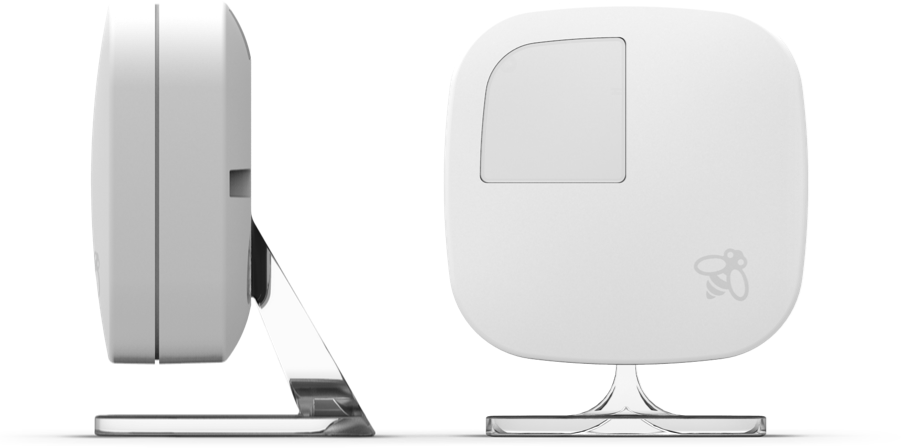 Turn On Eco bee's "Follow Me" Function
This is a step up from the Smart Sensor integration we discussed before. Where the number of sensors that contribute to the active comfort setting is simply averaged. Get far savvier with me as your guide.
The Ecobee will consider both the temperature and occupancy readings from connected sensors when the Follow Me feature is activated. In addition, the sensors that have sensed human presence don't just average their temperature readings. The Ecobee takes into account the amount of time spent in each area.
To avoid shocking your heating and cooling system with rapid changes, the Ecobee will gradually adjust the temperature if more than one sensor detects occupancy.
In a similar vein, your thermostat's temperature data is progressively (and not instantly) removed from the computation of the set point after you leave a room and your sensor stops detecting occupancy.
Let's assume your present comfort setup has three rooms with sensors: the living room, the kitchen, and the bedroom. Even if you leave the living room to get a snack while watching a movie, Ecobee will recognize that you've returned and won't change the temperature there. The living room is the primary location for this.
Let's assume one person stays watching the movie in the living room while the other retires to bed. The Ecobee will progressively raise the bedroom's ranking until the two sensors contribute equally to the temperature calculation.
Some considerations for utilizing the Follow Me function are listed below.
To maintain the existing level of comfort, the Ecobee will utilize all of its sensors even if no one is home.
To establish where each sensor falls on Eco bee's temperature ranking scale, the smart thermostat consults occupancy data from the past 30 minutes.
Smart Home & Away Mode by Ecobee
Ecobee isn't alone in offering this setting; most modern thermostats do. Through the use of Works with Nest and its sensors, Nest can almost match Eco bee's performance.
In a nutshell, "Away" mode will trigger "Smart Home" if any motion is detected by any of the connected devices. The opposite is also correct. Once the "Home" mode has been inactive for two hours without any motion being detected by ANY sensor, "Smart Away" will activate.
If you have Smart Home and Smart Away enabled, your Ecobee will bypass your set schedule in the flavor of either convenience (Smart Home) or cost-cutting (Smart Away) (Smart Away). The goal is for individuals to be able to leave their homes and save money and energy without sacrificing comfort. It's aimed towards folks whose plans are subject to alteration. Therefore, Ecobee can learn to adapt on its own to your changing schedule. To the extent that it's been at least two hours.
Occupancy sensor data is processed by the Ecobee thermostat. Other than the Ecobee 3 lite, other smart thermostats that include occupancy sensors include the original Room Sensors, the Smart Sensors, and the Smart Sensors for doors and windows.
https://www.smart-techie.com/1475-2how-does-accurate-track-to-samsung-galaxy-watch-and-measure-sleep/
Automatic Smart-House Activation
If you're in "Smart Home" mode, the temperature will be controlled by your "Home" Comfort Setting.
After an hour of the "Away" comfort setting being in effect and no "Smart Home" activity in the preceding two hours, your Ecobee will switch to "Smart Home" mode if one of the sensors detects a room is inhabited.
Intelligent Departure Settings
Smart Away mode's temperature controls are more involved than Smart Home modes. To solve this problem, your Ecobee smart thermostat will come in handy. The temperature in "Smart Away" mode may be adjusted down to a few degrees below your "Home" comfort setting. You may choose the temperature you desire before leaving, and when you return, the house will be returned to that temperature.
Description of Eco bee's In-Room Sensors
You may connect as many as 32 individual Ecobee room sensors to a single smart thermostat. As the sensors are integral to the thermostat's operation, you can't buy them separately. Assuming your smart thermostat is already set up, pairing them is a breeze. Once the sensors are attached, you can identify which room is being watched by giving it a name.
Using 915 MHz radio waves, each sensor may talk to the Ecobee thermostat. The maximum range is 45 feet, however, ceilings, floors, and walls may all reduce their effectiveness. They might cause problems for other electronics operating on the same frequency. Installing them too far away might also lead to inaccurate results.
The Ecobee Room Sensors Have Some Extra Features
Sensors for the home equipped with ecobee
You may access the functionality of your Ecobee room sensor through the app's menu on both your mobile device and your computer. The thermostat itself may be used as a controller, allowing you to enter the settings interface.
Home, Away, and Sleep are the default settings. Eco bee's online portal allows you to create new profiles in addition to the ones listed above. Various sensors may be utilized depending on the profile being used. The thermostat's on/off temperature may also be programmed. For instance, the air conditioning kicks on when the temperature drops below 80 degrees Fahrenheit, and heating kicks in when it rises over 70 degrees.
Activated sensors' average temperature readings are then used to trigger the thermostat, thanks to the Follow Me function. This useful function can tell which rooms you're using, so you can be sure to always find a pleasant environment there (without huge temperature changes as you walk from one room to another)
The Smart Home/Away profile makes Ecobee room sensors invaluable when you're away from home. To provide a pleasant environment without needlessly wasting energy by being on all day, the sensors monitor tenants' movements and adjust the temperature accordingly. However, after 2 hours of nobody being at home, it will automatically turn off.
Comfort profiles are pre-set, but if you're utilizing more than one sensor, you may create your own.
How to Set Up Your Ecobee Smart Sensors
If you want optimal performance from your thermostat, positioning the sensors there is crucial. You could start by wondering, "Where are the chilly and hot zones in each room?" This includes rooms that are overexposed to sunlight or have draughty windows. You should stay away from them so that your results are accurate. Put them at least 5 feet high if possible. Ideally, you would install them near entrances and dining areas so that the motion-detecting feature would be most useful.
Avoid the kitchen since cooking might produce extreme temperature changes. Instead, focus on the kitchen's peripheral spaces. Similarly, taking a steaming hot shower might cause sensor confusion in the bathroom.
Conclusion
Is the cost of Eco bee's home sensor products justified? Assuming, in the event that one already possesses an Ecobee thermostat and is contemplating an upgrade. If this isn't done, the system's entire price tag might go up. It is imperative to take into account the potential for long-term cost reductions. The implementation of a smart thermostat and room sensors presents a viable opportunity to achieve cost savings on utility expenses while keeping a comfortable indoor temperature, even during periods of absence. In the event that one incurs substantial expenses for HVAC services within their locality, it is plausible that the subsequent financial recuperation may transpire at an accelerated pace. The purpose of this particular smart home technology is to enhance the quality of life for individuals while minimizing energy consumption. Both tasks can be easily accomplished by utilizing the Ecobee thermostat and sensor package.
6 Best Apps To Control All Your Smart Home Devices.
6 Best Apps To Control All Your Smart Home Devices are the kinds of smart home gadgets that used to only exist in science fiction movies are quickly becoming available to the public thanks to rapid technological development.
With the aid of these advanced technological gadgets, you may do any task without leaving the comforts of your couch.
What Exactly Is an App for a Smart Home?
It is not necessary to get everything for your smart home ecosystem from the same manufacturer. It's easy to forget that the light bulbs in the living room are a different brand from the ones in the kitchen if you want to communicate with these gadgets using a smart speaker or display.
This is because you provide commands to the server in charge of the lights through a speaker, and the lights respond accordingly.
However, there are situations in which you may not want to utilize your speaker, such as when you want some peace and quiet or when it doesn't comprehend what you're saying.
Having one of these gadgets in every area may also become expensive. On the other hand, you may use your phone to manage your smart home devices regardless of where you happen to be.
However, it may be inconvenient to use a variety of mobile applications to switch between several systems.
To avoid compatibility issues while using devices from various manufacturers, there are applications available that facilitate communication with many service providers. Here is what we've chosen:
The Amazon Echo was one of the first smart speakers available, allowing users to manage home automation systems using voice commands. Given the extensive list of compatible hardware and software, it makes sense for the app to serve as a centralized hub for all of your smart devices.
With the widespread adoption of Alexa-enabled devices, the number of compatible add-ons is only going to increase over the next several months.
The Alexa app provides a centralized hub for managing all compatible smart home gadgets from a single location, independent of brand.
They are organized in various ways, such as by room and by category, and may be accessed from the top bar. At long last, the ability to create favorites means that frequently used devices may be accessed without any more digging.
https://youtu.be/RyyTf-l9Qq8?si=UOoJdYk_4YQBNyic
The Alexa app isn't the most intuitive or aesthetically pleasing option out there. Additionally, the device list is not immediately visible when opening. Aside from verbally instructing Alexa, there is no widget with shortcuts for controlling your smart devices.
Finally, although Alexa can be controlled verbally, it may not be possible to do so using the app's graphical interface. This restriction is especially perplexing given that the gadget is on the recommended list and responds to voice commands.
Some garage doors, for instance, may be controlled through the Echo speaker but not the Alexa app.
Alexa, on the other hand, has some of the most potent routines available. You may use it to set up a wide variety of circumstances for automating the interactions between your smart devices.
If you have many smart home devices from different manufacturers, the Google Home app may serve as a centralized hub for all of them. All of your Google Assistant-enabled devices will automatically sync with the app, much like Alexa.
Since Google Assistant is a preferred choice, it is compatible with a wide variety of well-known companies and services.
There's no need to individually add each gadget to the program, and everything can be managed from a single interface. When comparing Google Home to Alexa, the key benefit is that all devices are seen without having to go to a different tab.
Your gadgets are organized by room, but you can't choose favorites. Additionally, there is no exact filtering by device type as Alexa has, even though there is a shortcut at the top to manage the lights and thermostats.
Even if they show up in the Google Home app and are compatible with Google Assistant, you can't control all devices with Google Home. When using the Google Home app, for instance, you can't switch off the TV, even if you ask the Assistant to do so.
Surprisingly, the Google Home app let us open the skylight windows but not the shutters, although we could open and close them by just saying so. The fact that Alexa allowed us to accomplish it via the app makes the contradiction all the more fascinating.
Assistant routines may help you get around these restrictions by automating common household tasks like turning off the lights when you leave. However, in comparison to Alexa, these procedures are restricted because of a lack of initialization options.
Most individuals can make use of Google Home, particularly as a hub for simple smart home gadgets like lights, plugs, and thermostats. Consider how effectively the app interfaces with your current ecosystem and whether or not it supports the sophisticated controls and automation you need.
There is no way around the app's predetermined structure, which is based on rooms and an alphabetical index. In our case, the least often managed space is the restroom, so that's where we start. To make matters worse, there is no handy widget to let you quickly access the most-used settings.
As a consolation, if your phone is running Android 11 or later, you may be able to take advantage of the integration with the Power Menu. This is convenient for controlling your smart home without installing any additional apps, but it isn't available on all devices.
Samsung's Smart Home Appliances
When it comes to aesthetics, SmartThings is up there with the best of them. It was manufactured by Samsung; however, it may be used with devices from other manufacturers without a hub.
Many third-party services can be integrated with it, but not as many as with Google Home and Alexa. The software can be set up quickly and allows you to divide your devices into rooms and prioritize the ones you want to access from the app's main screen.
SmartThings provides convenient features, such as the ability to set timers for the lights to turn off automatically after a specified length of time or at a certain hour, and a more user-friendly layout than the previous two applications.
In a similar vein, you can manage many bulbs at once, regardless of brand, by creating light groups that function independently of rooms. However, the software only allows you to lower the lights to the same level and not alter their color when they are in a group.
Despite this restriction, SmartThings typically fully supports the devices it works with, so an unsupported device is not likely to show up on the list. Unlike Alexa, it can show us a live feed from our Ring security cameras and doorbells.
This is more manageable with fewer service providers, but it is still important to keep in mind. To manage your lights and other gadgets without launching an app, you can simply add widgets to your home screen.
SmartThings also has robust automation capabilities out of the box. They are capable of conditional logic and multi-device control. Setup is straightforward, and you won't even need a service like IFTTT.
If your smart home gadgets are compatible, SmartThings is your best bet for turning your phone into a remote control. The widget is preinstalled, and the software itself is user-friendly.
In addition, once your devices are connected to your SmartThings account, they will be instantly added to your smart speakers, so you won't have to add them separately in any other applications. This is because SmartThings works with both Google Assistant and Alexa.
Even though it's not a traditional control panel, Olisto can help you automate and coordinate the majority of your smart home's gadgets and appliances.
You may set up triggers that operate on the system depending on factors like time and place. It may be programmed to do recurring tasks such as activating lights, locking doors, and opening blinds at 9:00 a.m. on weekdays.
Your smart home gadgets, like your smart camera, activity tracker, and more, may serve as triggers for automated tasks. Input unique triggers, such as closing the kitchen door if you haven't had enough activity before 7 p.m., since Olisto is compatible with so many other services.
The ability to make "now" buttons that trigger actions is extremely useful. To operate many devices at once, such as blinds, lights, and speakers, a single virtual button may be pressed.
It is convenient when used often but time-consuming to set up since buttons must be added individually for every function in every product.
If you don't want to spend a lot of time configuring your system, Olisto is probably not for you.
In contrast, this software is worth a try if you like tinkering with technology and would like to set up some cool home automations that are activated by the push of a digital button.
Even though it supports fewer services than IFTTT, Zapier actually makes it easier to develop sophisticated routines. Last but not least, there is no widget, but rather an option to enable a helpful permanent notice.
The iHaus software isn't very pretty, but it does have some practical applications. Connecting your smart home gadgets to it doesn't require signing up for any additional services or going through any complicated setup procedures like most other applications.
With the app's automated device scanning, we were able to connect our Roomba cleaner and Hue lighting with a single tap. When compared to the aforementioned applications, it supports fewer devices and services.
You may not be able to include all of your devices in the app if, for example, some of your lights, smart plugs, cast-enabled speakers, smart shutters, or garage doors are incompatible.
If you have many smart speakers, lights, plugs, kitchen appliances, locks, thermostats, and even a Tesla, iHaus can operate as a centralized control panel for all of them.
The ability to just touch an icon makes it far more user-friendly than Google Home. It's also wonderful that it can identify preexisting groupings, like Hue rooms, so you can control the brightness or color of every bulb in a given space with a single command.
It's possible to program a single button to switch off every appliance in your house. Although conditional triggers may be created with iHaus scripts, they aren't very useful in reality.
https://www.smart-techie.com/what-is-a-smart-toilet-and-some-interesting-facts-about-it/
What you want to accomplish, the devices you have available, and the app's compatibility all play a role.
If your devices are compatible, iHaus is a good choice if you want to test something out quickly and aren't too concerned with how it appears.
The If This, Then That service is a top pick for us. It's not so much a smart home hub as it is a smart automation platform that works with a wide variety of other brands.
After you've gotten everything set up, you can stop thinking about it. If, for instance, you use different applications to manage your home's lights through smart plugs, IFTTT can help you automate the process of turning them off at once.
Easily make a location-aware applet by connecting the app's many plug-ins. Because of how effectively IFTTT works, you will only need to use the app occasionally to do things like create an applet or review your activity history.
You may use widgets and Do buttons on your phone to manage your smart home gadgets remotely. Applets need manual creation, like Olisto and Google Home, although they have certain useful capabilities like controlling lighting.
If you don't plan on making a lot of buttons, IFTTT is a good option to explore. The platform is compatible with many different services, and new jobs may be made with only a few mouse clicks. The app features a widget, which is something that not all of its competitors have.
Home Remote Home Remote's interface is so easy to use and aesthetically beautiful that it almost begs you to categorize your electronics into rooms and groups.
Lights, outlets, thermostats, televisions, and stereos are just some of the gadgets that may be controlled by this app. Even though it lacks the functionality of Alexa and Google Home, it does support a respectable number of third-party apps.
It is also compatible with Cast speakers since it is integrated with SmartThings.
Background images and device placement are both modifiable via the UI. It's worth a try to see whether it meets your requirements and is compatible with your modern gadgets.
Node Red and Hubitat are two excellent choices if you're looking to work with sophisticated tools. Due to their technical requirements, some applications are not ideal for the typical user. But if you're not afraid of tinkering and want to exercise command over your networked devices, they are worth a shot.
These two approaches can let you operate any gadget the way you want if you're willing to put in the time and effort to learn how they work and how to maximize your smart home's potential.
They aren't as user-friendly as the applications we just discussed, but with your aid, you can do amazing things in your own house!
Use your mobile device as a smart-home controller.
Conclusion
More smart home gadgets mean more work to manage them. Even without a centralized smart home app, you've arrived at a stage where you can ditch the remote and get by with relatively seamless control of your smart devices using a combination of applications.
With the help of smart home applications, you can manage everything in your house from a single, centralized location. Each SmartApp has its unique features, yet they all share a common set of basics.
The devices they work with vary. The capabilities you'll need and the device you'll be using it to manage should help you narrow down your options.
What Does Bluetooth Do On A Toothbrush?
The concept of placing cutting-edge wireless technology inside one's lips may be a little disconcerting to some, despite our comfort with holding it to our ears. Toothbrushes nowadays aren't happy to sit idle; they'd rather give you a lesson as you brush.
Those who wanted to save time and effort while still effectively cleaning their teeth embraced the switch from manual to electric toothbrushes. They're being given intellectual therapy now.
The procedure involves enhancing a regular electric toothbrush with artificial intelligence, data monitoring, wireless connectivity, unsolicited counsel, and a suite of minty analytics to ensure proper brushing technique.
Because we didn't listen to our dentists when they recommended brushing in slow, circular motions for around the duration of the White Stripes' "Fell in Love with a Girl," the toothbrush feels compelled to weigh in as well.
What Exactly Is a "Smart Toothbrush"?
Smart toothbrushes, which often use Bluetooth and a set of sensors, monitor your brushing patterns and provide feedback on where you may improve.
Like that bothersome buddy who keeps track of how many drinks you've had, the information will generally be shown through an app on your smartphone.
For those who need additional incentive beyond just not losing any teeth, there are smart toothbrushes like the Philips Sonicare Protective lean 5100, which alerts you when it's time to change the brush head, and the hum by Colgate, which allows you to earn points to reward excellent brushing habits.
Colgate no longer manufactures the Playless Pro, a smart toothbrush that had a plaque detector that illuminated when the nasty stuff was around. Possibly we simply think plaque exists.
https://www.smart-techie.com/are-smart-locks-hard-to-install/
Despite its high-tech capabilities, a smart toothbrush cannot replace your regular toothbrush. Unfortunately, it won't do anything to help you drag the brush back and forth.
No, it won't pick you up from the dentist's office after you've had oral surgery and no, it won't provide you legal protection from ever acquiring cavities. You should probably take an Uber or something.
Is It Valuable to Invest in an Electric Toothbrush?
How, therefore, can you know whether or not you're using a smart toothbrush as opposed to a traditional manual toothbrush? Easy.
You may forget about getting anything except a cheap standard toothbrush for free following a trip to the dentist. But We suppose there are further benefits. It's all about what you need, truly.
For those who lack confidence in their brushing techniques, a smart toothbrush may simulate the presence of a dentist watching and commenting every 30 seconds on the user's technique.
Unfortunately, this technology is still in its infancy, and several models have received negative reviews for its inability to detect where the brush is placed inside the mouth.
Also, the significant price hike may not be justified given the small but noticeable differences in the number of functions offered by electric and smart toothbrushes. It's probably more cost effective to pay a professional to wash your teeth for you.
How Come My Oral-B Electric Toothbrush Has Bluetooth?
The Oral-B electric toothbrush includes Bluetooth connectivity, which you may have noticed if you have one. But what exactly is Bluetooth, and why does your toothbrush have it? To put it simply, Bluetooth is a wireless technology that enables devices to communicate with one another.
Headphones, speakers, and even toothbrushes all make use of them. So, what use can the Bluetooth connections on your Oral-B brushing device serve? Several explanations may be offered.
To begin with, you may sync your toothbrush with the Oral-B mobile app.
This software may provide you with immediate feedback on your brushing technique, allowing you to make adjustments that will have a positive impact over time.
Second, your toothbrush's firmware may be upgraded over Bluetooth so that it always functions at its optimal level.
This ensures that your brush always has access to the most recent updates and improvements. Finally, certain Oral-B versions have a unique wireless charger that talks to the brush through Bluetooth.
In this manner, there is no need for tangled cords; just set your brush on the charger and it will begin charging immediately.
The function of a sonic toothbrush
Sonic toothbrushes are designed to clean teeth and gums more thoroughly than traditional manual toothbrushes. Plaque and germs are more easily scrubbed away from teeth and gums thanks to the brush head's rapid vibrations.
Additionally, the use of a sonic toothbrush may help alleviate gum swelling and bleeding.
Which is Best: A Manual, Electric, or Bluetooth Toothbrush?
In comparison to traditional manual toothbrushes, electric toothbrushes have been found to effectively remove more bacteria and tartar from teeth.
Electric toothbrushes are superior to manual ones in terms of removing plaque and cleaning in between teeth due to the action of the brush heads.
The Bluetooth option is becoming more prevalent among electric toothbrushes, but you may have observed that not all models have it.
Bluetooth-enabled and non-Bluetooth-enabled toothbrushes provide almost identical physical experiences when brushing. The difference, though, is in how effectively you can customize your brushing routine to meet your requirements.
When you pair your Bluetooth toothbrush with the corresponding mobile application, you'll get immediate feedback on your brushing habits, including how long you've spent brushing, which areas of your mouth you've focused on, and whether or not you're using too much pressure.
The app tracks your brushing habits and provides feedback on how well you're doing over time.
Thanks to Bluetooth, you can not only customize your brushing equipment to meet your specific requirements but also monitor your brushing session in great detail, allowing you to pinpoint your demands.
It's also important to note that different models have different pricing points. Price ranges from $30 to $40 for a basic electric toothbrush, with the cheapest Bluetooth version costing over $100.
Top-of-the-line devices with all the bells and whistles described in this article may set you back as much as $300. A toothbrush shouldn't cost that much money. So, it brings up the next inquiry.
What about the safety of Bluetooth toothbrushes?
The use of Bluetooth-enabled electric toothbrushes is risk-free. However, studies have failed to provide evidence that the quantity of RF emissions is detrimental. When used correctly for the recommended period, Bluetooth toothbrushes may be helpful to oral health.
Bluetooth toothbrushes have many potential users, but some have legitimate safety concerns. Nothing could be farther from the truth, so relax. There is zero risk in using them.
There is, in any case, absolutely no cause for alarm. In terms of security, Bluetooth toothbrushes are identical to traditional toothbrushes. Like any other addition, Bluetooth is designed to make brushing easier and more effective while also enhancing oral hygiene.
Using a Bluetooth-enabled toothbrush may make brushing safer for those with braces or other orthodontic equipment by facilitating more thorough and careful cleaning around the appliances.
Also, unlike regular toothbrushes, Bluetooth models don't need the use of force, which may wear out orthodontic appliances and necessitate visits to the dentist or orthodontist.
Anyone who has had braces knows how unpleasant it is when a bracket flips around and scrapes the soft tissue of the mouth.
Even though I've previously mentioned the pressure sensors included in these smart toothbrushes, I feel it's important to emphasize their relevance to health and safety.
When too much force is applied, the pressure sensors will sound an alarm. Too much force is bad for your gums and might lead to problems on the road.
Conclusion
There are several uses for Bluetooth in the modern toothbrush. We discovered that it takes very little time to set up, and that data can be sent in real-time as we clean our teeth.
That information is presented in a useful way, letting you know exactly where you've finished brushing and where you still need to go. Your brushing history is stored so you may go back and make adjustments if necessary.
With Bluetooth, you can monitor your brushing habits and make adjustments to your routine for optimal results.
In the end, many buyers consider Bluetooth to be a feature well worth the additional cost. Toothbrushes with Bluetooth are highly recommended because of the many benefits they provide and the ease and effectiveness with which they may improve your daily oral hygiene routine.
Finally, remember that your primary care physician or dentist should not be the one to make this decision for you.
Everyone here is a smart device fanatic, and here are my thoughts on the matter. If you need dental advice before purchasing a new toothbrush, please see your dentist first.
What Is A Smart Toilet? And Some interesting Facts About It.
You've probably been hearing a lot about smart gadgets recently. There are so many examples of smart technology today: smart LEDs, smart outlets, smartphones, smart thermostats, etc. On the other hand, you may not be familiar with the concept of a smart toilet.
You are not the only one who is both interested and bewildered by this clever toilet; nonetheless, we are here to throw some light on the topic. The ease of not having to touch the toilet is only one of the perks that come along with having a smart toilet.
The smart toilet conserves more water than traditional toilets and is also more sanitary since its features do not require users to have physical contact with the bowl. It provides not only luxury but also many other perks that are useful in everyday life.
A hands-free toilet that adds an additional layer of cleanliness to your time spent in the bathroom is known as a "smart toilet." Because of its sophisticated programming, you won't have to touch the toilet to lift and lower the lid of the container.
In addition to that, after you are through, it will also clean you and dry you off. When you are done using it, this high-tech toilet will also clean and deodorize itself for you, as if that were not impressive enough.
Some interesting facts and functions of toilets:
You really won't be able to say no to a smart toilet since it comes with so many clever functions. A homeowner may reap several advantages by installing a smart toilet in their house.
We will just go through a few of the many benefits that smart plumbing may provide to give you an idea of what it can do.
Automatic Closing and Seating Systems
A smart toilet is equipped with a sensor that can track your whereabouts and raise the toilet seat and lid when it detects that you are going to use the facility.
This innovative plumbing fixture will not only open the lid for you, but it will also warm the seat, protecting you from getting an unpleasant shock, which is particularly important during the colder months.
How does the toilet know when it has to warm itself? It does this by keeping track of the periods of the day when you are most likely to use the restroom and then preheating the seat just before those times.
When you are finished, the lid will shut itself off automatically. A more sanitary environment is ensured by the presence of hands-free functions.
Before you use the toilet, it will spray a pre-mist into the bowl, which will cause it to get damp and prevent anything from sticking to the surface. This function removes the dread associated with cleaning the toilet.
https://www.smart-techie.com/are-smart-locks-hard-to-install/
The bowl is only sprayed with a fine mist of water, and no harsh detergents are used in the process.
Are you concerned about the possibility of spreading germs by touching the air freshener container after using the restroom? The operation may now be performed without using either hand.
When you sit down on this high-tech toilet, the surrounding space will be instantly cleaned and sanitized, removing any lingering odor.
It does this by drawing air from the area surrounding the toilet through a carbon filter, which then eliminates any scents that may be present in your bathroom.
After you leave the restroom, it will continue to run for two minutes to eliminate any lingering foul odor that may have been left behind.
When you are done using this high-tech toilet, you will get cleaned with a spray of water from the attached shower. We mean "hands-free" in every sense of the phrase when we talk about our products.
Even though bidets have been around for quite some time, an increasing number of families are opting to use them. Nevertheless, it has never been implemented as a function on a toilet before.
Don't be concerned; the bidet won't emerge until you need it, and not a moment sooner.
Because the material covering the bidet shower head is anti-bacterial and non-stick, and because the bidet itself utilizes ultraviolet lights to sterilize itself, you won't have to worry about keeping it clean.
You may also have peace of mind knowing that the bidet will spray warm water, so there will be no unpleasant surprises of chilly water.
The front cleanse setting on the Smart toilet applies a pressure that is less intense than the pressure used for the rear clean.
Feature of the Air Dryer
You will first be sprayed with the bidet function, and then you will be dried with the intelligent air-drying vent. You'll be completely dry in around two minutes thanks to these vents.
You can choose the temperature setting to have an air-drying experience that is soothing and pleasant for you.
Automatic Flushing System
It employs sensors to track your motions to open the lid and seat, and it will flush the toilet as soon as it recognizes that you have stood up from sitting on it. You won't accidentally touch any of the toilet's components if you don't manually flush.
Because of this, it is very sanitary and risk-free to use. If you are currently seated on the toilet and would like to flush, all you have to do is wave your hand, and this will indicate that you would like to flush.
In addition, the water-saving smart toilet features three different flushing phases.
You have the option of using either an induction flush, which determines if water has been wasted, or an automatic flush, which utilizes a pre-set water limit. Both of these flushes are available to you.
The connected toilet may help you save water and reduce your impact on the environment.
Protection against Overflow
The smart toilet will be able to detect if your toilet is blocked, which is something that often occurs, and will automatically cease flushing to avoid an overflow.
It maintains a low water level, which reduces the waste of water and the need for unnecessary cleaning.
Adaptations to Reduce Water Use
There are several configuration options available to meet your requirements. The low-pressure option conserves up to 35 percent more water than the majority of the other features but needs more regular maintenance. I
t is also possible for it to conserve up to fifty percent more water than a manual flush, and it saves the water that is already stored in the tank. The usage of unnecessary water is monitored by movement sensors in a smart toilet.
When you have to get up in the middle of the night to go to the restroom, you won't have to fight against blinding lights.
The motion sensor lights on the smart toilet will turn on automatically whenever they detect that you are going to use it. It is a customizable setting that allows you to experiment with many light intensities and hues.
This function won't illuminate the whole bathroom; rather, it will just illuminate your toilet. It helps prevent the uncomfortable transition that occurs when going from dark to light.
Various aspects of healthcare
There is a function that is going to be added to smart toilets soon that will enable the toilet to analyze human waste and identify illnesses almost immediately.
However, contemporary high-tech toilets do not yet come equipped with this feature. It's possible that you won't be able to get this function for at least a few more years.
FAQS About  Smart Toilet
1. In what ways does a smart toilet differ from a regular one?
The only noticeable change is the cleaning effect of the water. An intelligent toilet is identical to a regular one in every other respect.
2. Is it appropriate to have an intelligent toilet for the elderly or people with disabilities?
Depending on the type of impairment, a handicapped person may gain some freedom with the use of a smart toilet. An intelligent toilet's single-dial control makes it a breeze to operate.
Some types may be especially useful since they combine a bidet and air-drying system into one convenient package. Before you build a special restroom for a handicapped individual, you should consult with a doctor.
When installing a new item in your bathroom, you should always use a professional.
3. How Much, If Any, Structural Modification Is Needed?
All that is required is access to electrical power. Before putting in a smart toilet, make sure the wiring in your bathroom is in the right place.
Alternately, your electrician will need to reroute the wire for the smart toilet to function. In order to connect the water supply, certain installations may need plumbing modifications.